1. Get Your Own Domain Name
Before you can even think about building your Joomla website, you'll need a solid domain name that reflects your website.
Whether you start a WordPress, Drupal or Joomla website – domain name will be the key element of your website.
It'll be your "first impression" to website visitors, it affects your SEO, and it also defines your brand.
I cover that in-depth in this post: How to Choose a Domain Name.
In short, it should be:
Simple
Easy to remember
End with .com, .net or .org
Once you've found a desirable domain name, here's how and where to register it.
2. Get a Web Hosting Service
Aside from a domain name, you'll also need a hosting service.
I don't go too much into choosing a web host, but I've been recommending Bluehost.
However, when you decide to choose another hosting provider, here are 3 things to keep an eye on:
1. Uptime. The more the better, usually measured in percentages, such as 99.90% and 99.99%.
2. Page load speed. How fast is the hosting provider? It should load your site within 500ms.
3. Customer support. You'll have to sort out issues with support at some point – so you should choose a host that has quality and responsive customer support.
I'm recommending Bluehost – they're cheap, simple and easy to use. For alternative options, check best web hosting services by HostingFacts.com
3. Install Joomla
Why do things manually when you can click a single button that does all the heavy lifting for you?
No need to reinvent the wheel here.
Instead, head over to the Control Panel on your hosting account. (Typically this information is emailed to you after purchasing a hosting account.)
When you find it, you'll notice a bunch of buttons.
Here's what to do with them.
1.1 Quick installation
If you've got a good hosting provider, you'll literally see the Joomla name and icon directly on your Control Panel. If you don't have hosting provider yet, head over to Bluehost and get one (you'll get a free domain as well – if needed).
Alls-you-gotta-do is:
Find & push the Joomla! icon
Choose your domain name
Click 'Install Now'
It's literally that simple.
Unless… it isn't.
If you don't see the Joomla! Name + icon lurking as a quick-installation option on your Control Panel, the TL;DR version is that your hosting account probably isn't that good (hate to break it to you).
So here's what you would do instead.
1.2 Manual installation in 5 steps
While this initially might sound complicated, running a manual Joomla! Installation is actually pretty easy. Just follow these five steps.
Step 1. Create a database. In plain English, a database is like a collection (technically called 'tables') of all your website's information – stored altogether, ready at a moment's notice.
You know, kinda like Monica's flat in F.R.I.E.N.D.S (God am I so old or what? ?
To create a MySQL Database, go to the control panel and find the icon called MySQL Databases. There you should create a Database user and an individual Database. Then add the user to the database, and move on the next step.
Step 2. Start with the Joomla engine.Download Joomla!, which is the archived package of stuff (good news, you really don't need to look at).
Simply upload this zip package to your site's root folder and unzip it there. More good news: that was the "dull" part. Now starts the cool (runnings) part.
Step 3. Set up your website. Carefully type in your domain name inside the URL bar. Simply enter the website address, and if you did everything right (I'm sure you did), you'll see this:

Those are the fields where you enter your site information. Don't worry, it's not like a permanent tattoo — you can change this information anytime you want from the admin panel later. So far, you go Next – Next – Install, that's it.
Step 4. Press the Install button. After you do, the next window will suggest removing the installation folder that you've unzipped in Step 2. Go ahead and do it! It's served its purpose.
Step 5. Enter your Administrator's Panel. Finally, you can proceed to your website.
Go ahead – pop some champagne and celebrate.
Now you can log into your admin panel by adding /administrator to your domain name in the URL bar.
4. Write your first article on Joomla
The first thing you see after logging in is the admin panel. It's got some features on the top and left-hand side of your screen.
Got it? Good. Now ignore it.
I'm sure after that installation process you just want to write your first words and publish them already.
Fortunately, it's that simple.
2.1 Write an article
You might have already noticed a New Article icon in the left sidebar.
But don't click it. My techie friend says only the cool people work with the top tool panel.
Just kidding. The primary difference between the two is that your top options contain ALL the possible features (while the stuff on the left is merely a limited shortcut).
Instead, go to Content – Articles – Add New Article.
You should be immediately met by something that resembles a text editor from the 90's and a NASA's secret file.
Go ahead and give your post a name, type a couple words into the post field, and click the "Save & Close" button. The article is ready, already!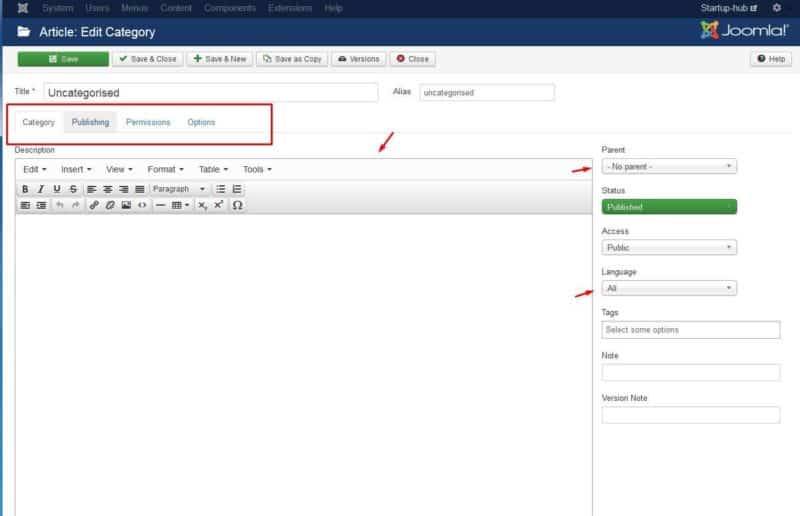 You should be in the Content tab now. You can fool around with these tabs for a bit if you'd like to get a feel for how they work. If you switch between the other tabs, you'll see they are pretty self explanatory.
My favorite is the Publishing tab. Here you can set up a calendar of publications. But more importantly, you can do also add some Search Engine Optimization (SEO) elements to the page. That's one of the great features about Joomla: they have all these meta descriptions and keywords options built it, so no additional extensions are needed.
Staying in the Content tab for just a second, you'll also see that the sidebar contains basic publication options for your article:
Status: publish the article or keep it as a draft
Featured: select, whether the article will be displayed on the home page
Access: сhoose who can see this particular post — all visitors or only registered and so on.
Tags: organize your posts with tags
Categories: organize your posts with categories
In theory, you can publish your article as-is.
However in reality, you'll need to assign it to a specific category so that it will appear on your website in the right place.
So let's take a look at how to create and use these categories.
2.2 Put your articles in order with categories
If your blog was a work of art, categories would be its location in the Louvre.
Basically you can create different categories and assign articles to them to keep everything organized by topic or theme.
However, keep in mind that categories in Joomla! also have their own settings, hierarchy, and even subcategories.
To create a new category go to Content – Categories – Create New Category.
To create a new subcategory, still go to Content – Categories – Create New Category.

Now in the sidebar, find the first option called Parent and select a category you want to add this subcategory to. This chain of subcategories can go on forever (in case you really love the order).
Categories have their own sidebar with basic settings and additional tabs (similar to those you saw while creating articles a few minutes ago).
For example, you can create category-wide settings like SEO elements in Publishing or an image in Options.
2.3 Create some new website pages
On a Joomla! website, you create pages in one place and make them appear in another. That's super important to remember.
Anything you create in Joomla won't be automatically shown on your site. So here's is a brief guide on how to create a page and, more importantly, how to make it appear on your website.
Create Joomla pages by navigating to Menus. So go to Menus – Manage – Add New Menu.
Now you'll probably want some pages to show up on your new menu. Go Menu – "Name of the Menu you've just created" – Add New Menu Item. Create as many items as you need. These new items are your website pages.
If you want these pages to appear on your website, you'll need to add modules to them. Modules are specific Joomla tools to display stuff on the website. You should see the tab called Module Assignmentwhile creating menu items. You can choose between the modules listed there. Oooor… you can go to the top toolbar and choose Extensions – Modules. There you can create new modules and assign menu items to them. (Just brace yourself, as you'll see a whole new universe of websites there.)
Finally we're getting to the good stuff: customizing your website. Here's how to get started.
5. What else can I customize from my Administrator's Panel?
(Spoiler alert: everything.)
Honestly, you can tinker with literally everything — from banners and contacts to themes and extensions. It's all made available right from the admin panel.
3.1 Change your website's look with Templates
Everyone loves themselves some themes.
Themes, templates, web design solutions. They're all the same. And they're super important.
Your entire website's look, function and feel is entirely dependent on them. They'll deliver an amazing experience, or an utter mess. So don't underestimate the decision in choosing one.
Like many other Content Management Systems (CMS), there are free and premium (or paid) Joomla templates available.
One counter-intuitive way to find reliable free themes, is to actually look for companies that provide premium ones. Many times they'll also put out high quality, albeit basic, free options to test drive.
Otherwise you can always purchase a premium theme if you're looking for the perfect option and ready to pony up some dough.
How do I choose the right template?
You don't choose the right template. Itchooses you. ?
Of course, there are a few basic characteristics you should pay attention to while selecting a theme. First is obviously your own taste. However you should also consider the following:
It's great to have a technical support included, as these people can fix any issue for you.
Updating of the template. Joomla constantly updates their system. Make sure your template provider also updates their templates frequently to make sure it will work with the latest version releases, improve security, and incorporante new features.
Documentation. From time to time, you'll need to check some features to learn how they work. Kinda like a washing machine, or any other product manual.
Responsiveness and cross-browser compatibility. This means your template should look great in Chrome, Safari , Firefox, and whatever Microsoft is calling their embarrassing excuse for a browser these days. As well as on any mobile device (Including the Microsoft one, which is like the Sasquatch of phones, because nobody's ever seen it in person.)
Edit-ability. Check out which template features can be customized on your own. Look for templates with a freedom of modules placement for example.
Stock photos included or not. While it's not a huge deal, you should find out if the theme you're about to purchase comes with all of the stock images (or not) loaded on the demonstration.
How do I install a Template?
Install your brand new theme by going to Extensions – Manage and clicking "Browse".
Upload your theme's zip file.
One interesting thing to note is that you can actually install as many templates as you want and then switch between them to see how they all compare. Just go to Extensions – Templates and choose the desired theme from the list to make it your default option.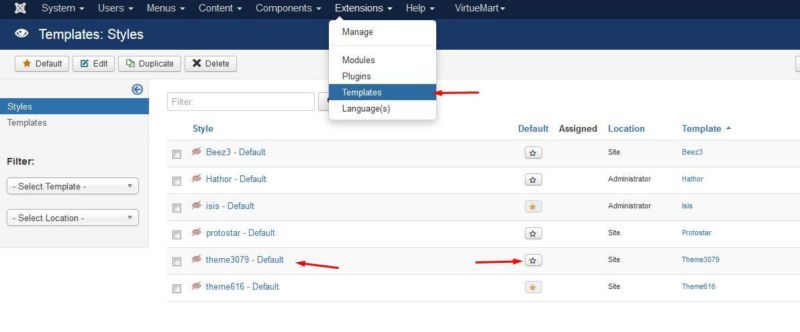 3.2 Expand your website's functionality with different extensions
Extensions.joomla.org contains a Willy Wonka-esque wonderland for all Joomla users.
One can find everything you've ever desired there, including security, maps, and perhaps even the meaning of life.
Extensions.joomla.org is the directory where all Joomla! extensions are listed. And by "all" I mean every teeny-tiny one, no matter free or paid.
Why do you need them? They can add anything imaginable to your website. For example, check out my personal top three:
For backups: choose Akeeba Backupas it's probably the most widely used Joomla extension.
For a handy file manager: install Phoca Commander as it's way more convenient than the usual FTP
To display a map on your website:use Google Maps plugin
Download the zip package of any extensions from the extensions.joomla.org directory. But DON'T unzip it just yet.
Instead, go to Extensions – Manage and upload this package to your admin panel.
Now your extension is ready to come alive